Sentosa Island, minutes away from the mainland, houses a wide variety of themed attractions, reputable spa retreats, rainforests, beaches, lavish resort accommodations, golf courses and deep-water yachting marina. Ranging over 5km2, the lively island resort is perfect for both work and pleasure. With the number of guests growing every year, Sentosa is Asia's top holiday destination for leisure.
Website: www.sentosa.com.sg
How to Go to Sentosa
There are many ways to go to Sentosa, Namely below approaches:
1.Cable Car: (see below)
2.MRT: Take the North-East Line or Circle Line and alight at the HarbourFront Station. From there, you may either go to the 3rd level of VivoCity shopping mall, transfer onto our Sentosa Express or you may take a leisurely stroll down the Sentosa Boardwalk.
Sentosa Express Operating Hours: 7:00am - 12:00mn,S$4 per entry (Both Adult/Child)
3.Taxi:It takes about 15 - 20 mins from Orchard Road to Sentosa Island.
Inside Sentosa Island buses
Travel for FREE within the island with the Sentosa Bus, Sentosa Express, Beach Trams and PLAY Rider (exclusive for on-island hotel guests)!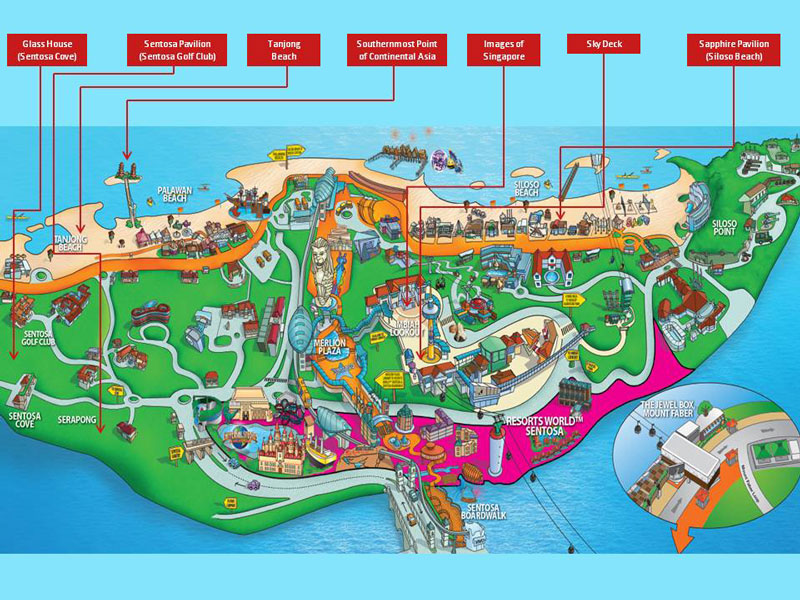 ---
Sentosa: Cable Car 2-way, include Island Entry
Get into Sentosa by Cable Car and you will be rewarded with an aerial overview of the Island including Resorts World Sentosa and Universal Studios, Singapore's City skyline and Harbour. It is the best mode of transport into the island takes you directly to the attractions hub of Sentosa: Imbiah Lookout. Alight and be ready to kick-start your Sentosa journey with 11 attractions to choose from at Imbiah Lookout. To get there, alight at Harbourfront MRT and take Exit B (Harbourfront Centre). Follow directional signs leading to Singapore Cable Car station at Harbourfront Tower II.


Opening Hours : 8.45 am to 10 pm


Website: www.singaporecablecar.com.sg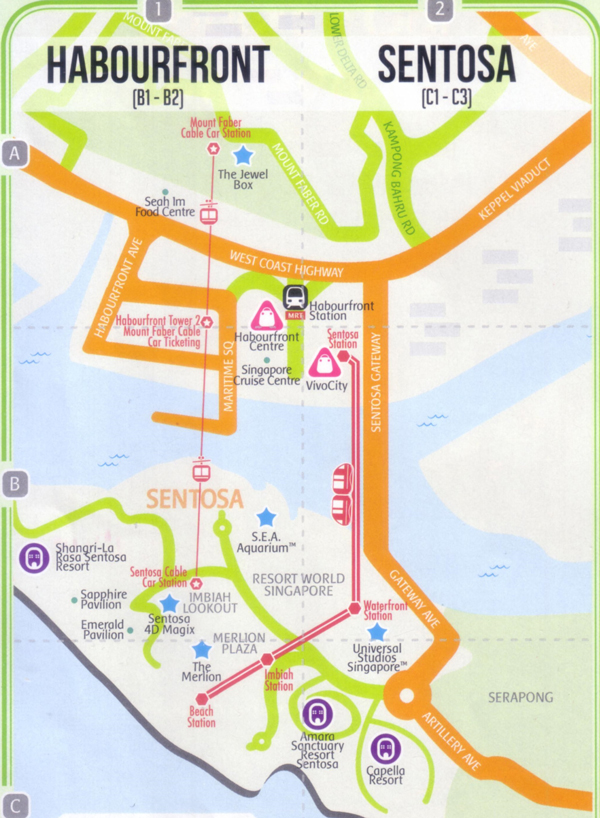 ---
Sentosa: Merlion
When you step inside the Merlion – an enduring icon of Singapore that's half-lion and half-fish – you'll be transported to the depths of the ocean to meet legendary sea dragons and mythical mermaids. Climb to the crown and you'll be rewarded with a spectacular 360oview of Sentosa, including Singapore's southern shores and a glimpse of the dazzling city skyline. Back on the ground, take an amble along the Merlion Walk, a 120-metre-long Gaudi-inspired mosaic walkway.
Opening Hours : 10 am to 8 pm

Website: www.sentosa.com.sg/the-merlion
---
Sentosa: Images of Singapore
This award-winning attraction brings Singapore's past to vivid life using multimedia displays, multi-screen theatre presentations and life-sized tableaus depicting local history. Images of Singapore is more than a walk down memory lane; it is a journey to the very soul of the nation. Here, legend, facts and folklore are creatively interwoven into an "I am there" experience. Be amazed by the colourful myriad of the festivals celebrated in Singapore and the stories that unfolded from the moment Sir Thomas Stamford Raffles stepped along the banks of Singapore River, all housed within a heritage building that used to be a military hospital.
Opening Hours : 9.30 am to 7 pm

Website: www.sentosa.com.sg/images-of-singapore
---
Sentosa: Skyline Luge
Part go-cart, part toboggan, the Luge offers a truly unique outdoor experience suitable for all ages that is not found anywhere else in Singapore or Southeast Asia. Navigate down 650 metres of the Jungle Trail or 688 metre of the Dragon Trail as thrillingly fast or cruising slow as you like. After Luge, board the Skyride and take in the fantastic panoramic scenery of the city skyline and beautiful coastline. As darkness settles, a whole brand-new adventure awaits you. Thrill-seekers will discover a different challenge while manoeuvring down each track with unique lightings. On the Skyride, enjoy a breathtaking view of Singapore as the city skyline and harbour transform into a dazzling city of lights at night.
Note: Passengers with heart conditions, motion sickness, back problems, other physical limitation such as epilepsy, vertigo and pregnant women are not allowed to ride on Luge & Skyride.
Opening Hours : 10 am to 9.30 pm

Website: www.skylineluge.com
---
Sentosa: Wings of Time
There's no better way to complete a fabulous day at Sentosa than to take in a spectacular night show set outdoors against the backdrop of an open sea. Come, discover an awe-inspiring display of water, laser and fire effects, set to majestic music and a panorama of breathtaking vistas.
The Storyline:
Explore new dimensions with Shahbaz, a mystical pre-historic bird. Together with his friends, Rachel and Felix, they travel across beautiful landscapes and the mysteries of time. His friends discover more about the courage to be more than who they think they were.
At journey's end, will Shahbaz find home? Will a boy and girl find true friendship? The story continues at Wings of Time!
Program: Every Night two shows (7.40 pm or 8.40 pm)

Website: www.sentosa.com.sg/wings-of-time
---
Resorts World Sentosa - Casino
Resorts World Sentosa
Resorts World Sentosa is an integrated resort on the island of Sentosa, off the southern coast of Singapore. The key attractions include one of Singapore's two casinos, a Universal Studios theme park and Marine Life Park, which includes the world's largest oceanarium.

Website: www.rwsentosa.com
VivoCity
As Singapore's largest retail and lifestyle destination, VivoCity is an imposing part of the country's plethora of shopping options. Located next to the water across from Sentosa Island, the mall is beautifully set up as an easygoing and fun shopping destination.
Japanese architect Toyo Ito has made full use of wide open spaces to ensure it is full of vitality and energy, and VivoCity is also home to a series of artworks, has an open-air playground for the kids and a rooftop amphitheatre.
Its shopping outlets cover everything you'll ever want, from fashion, books, electronics, sport, lifestyle, fashion and more. Highlights include its unique National Geographic flagship concept store and its luxurious Golden Village Gold Class cinemas. The best thing is – you can easily continue the fun in Sentosa after you've finished your shopping.