BLANC INN – Singapore Travel Guide
Singapore Shopping Zone 1:Orchard Road
Shop till you drop
Brace yourself for a world-class shopping experience. There are many shopping precincts you can explore to get your shopping fix, for a variety of shopping choices throughout the island.

Shopping is a national sport in Singapore and there is an enormous range in all price brackets to choose from. The artery of Singapore's shopping life is naturally Orchard Road where the largest and most well-known department stores are lined up. Moreover, there are lots of shopping centres and markets around the city. Anyone who is after a bargain is smart enough to checks the prices at home before leaving, just to have something with which to make a comparison. Not everything is cheap, but watches, clothes, cloth, gold, spices and jade are definitely found at a good price.

ION Orchard


ION Orchard brings together the world's best-loved brands in flagship, concept and lifestyle stores. Spread over eight levels of shopping space, you can indulge in over 330 retail, F&B and lifestyle stores, which include the six duplex flagships—Cartier, Louis Vuitton, Prada, Dior, Giorgio Armani and Dolce & Gabbana. In addition to a coveted stable of brands, an extensive food hall offers visitors myriad food choices ranging from local favourites to international cuisines.

Take dining to the skies: Located at an impressive height of 218 metres above ground level, ION Sky is the new focal point of the city.
Home to Salt grill & Sky bar, the elegant 6,000 square feet contemporary restaurant is helmed by none other than Australian celebrity chef-restaurateur, Luke Mangan.
Offering Australian cuisine with a touch of Asian flare, Salt Grill on the 55th floor is the casual version of his award-winning Salt Grill in Sydney. Besides mouthwatering cuisine, food connoisseurs will get to enjoy an unrivalled 360-degree view from the observatory, the highest point on Orchard Road.
For an extra touch of romance and glamour, head to the Sky Bar on the 56th floor for pre- or post-dinner drinks.

Wisma Atria - A woman's world


Ladies, grab your purses because this mall is all about you. With fashion at its heart and trendy female shoppers as its audience, Wisma Atria is heaven for the fashion-savvy consumer.

Located at the heart of Orchard Road–one of Singapore's most popular shopping strips–Wisma Atria is a fashionista's mall like no other. It houses nearly 100 different specialty stores, anchored by leading Japanese department store Isetan, fashion brands GAP–the first Asia flagship store outside Japan and Singapore flagship stores Coach, TAG Heuer and TimeWise by Cortina Watch–the first concept store featuring brands from the Swatch Group.

That's not all. The five-storey shopping mall boasts many firsts and new-to-Singapore brands. Peggy Bahama, Tory Burch, Etam and Hong Kong label i.t made their debut in Singapore with their stores in Wisma Atria. You also have access to an extensive array of international fashion brands such as Dorothy Perkins, Esprit, Gap, Lacoste, Ms Selfridge and local favourite Charles & Keith.

Food also makes up a big part of this mall's offerings. For casual dining, choose from Thai concept Coffee Stars by Dao, Korea-based Western cafe Paris Baguette, Din Tai Fung and TCC. Or recharge from shopping with a drink and dessert at Häagen-Dazs, Starbucks or Toastbox. For local favourites, Food Republic offers a wide variety of choices with more than 25 stalls.

Ngee Ann City - Something for everyone


Ngee Ann City is a staple of Orchard Road, with something to delight everyone. Another large mall on the Orchard Road shopping strip, this mall has seven levels and more than 100 specialty stores including Cartier, Zara, Calvin Klein, Hugo Boss, Dior and Armani.

But it's more than just designer brands that are featured here, with Ngee Ann City also housing beauty salons, bookstores and enrichment centres. With more than 30 food and beverage outlets serving Western, Chinese, Thai, Indonesia and Korean cuisine, you'll also be sure to find something you that suits your palate.

Japanese brands feature heavily at Ngee Ann City at department store Takashimaya, and there are also other Japanese shops like Books Kinokuniya and Best Denki. With bars and a gym, you can also grab a drink or hit the treadmill if shopping for the day hasn't tired you out.

Centrepoint


The Centrepoint is best known as a multi-faceted shopping mall in town. Housing the iconic Robinsons department store and the largest Marks and Spencer outlet – it's the one place visitors drop by to complete their shopping experience when in Singapore.

And it's no wonder. Shoppers can find internationally renowned brands such as MANGO, British India, Lacoste, Swarovski and Timberland. In fact, specialty shops such as the maternity line Mothers En Vogue, the party supplies store PARTY with US and many more can be found as well.

Many shutterbugs throng the shopping dame, especially during seasonal festivities because of the magnificent decorations the mall fashions itself. In fact, the Centrepoint was awarded a Silver nod in the Orchard Road Best Dressed Building Competition orgainsed by Orchard Road Business Association in 2009.

That's not the only reason that shoppers are drawn to the Centrepoint. The mall delights in providing a holistic shopping experience with its in-mall activities. It has entered into the Guinness World of Records and the Singapore Book of Records on the 2nd December 2008 for its feat in the Tallest Chocolate Sculpture. Plus, the new Singapore record for the Tallest Christmas Tree Made of Cupcakes on the 13th November 2009.

The Centrepoint is also a great place for families with children in tow to have fun, eat and shop at the same time. Family rooms (levels 3 and 6), kiddy toilets (levels 2 to 6) and diaper-changing stations (certain ladies and men's toilets) have been specially designed for their easy convenience and access. Shoppers can also enjoy the free Wi-Fi access available when the tap on Wireless@SG.

And because of efforts put in to create a wonderful journey for everyone, the Centrepoint has been accredited with the Businesses For Families Mark by the Businesses For Families Council. This mark recognises establishments with outstanding family-friendly practices and services.

Plaza Singapura - Modern, hip and urban


Plaza Singapura is one of the most popular malls in Singapore because of its simplicity and great location. It's always packed with kids, teenagers and young people, and it's not hard to see why, with everything all available in one place.

The mall has nine floors in all, each set to a specific theme, as well as a large internal courtyard. A number of popular local and international eateries takeup the lower floors, while clothes shops dot the higher levels.

Some keystores in Plaza Singapura include John Little, Yamaha and Spotlight, and its multiple dining options ensure that you'll be well-fed. You can also satisfy your entertainment needs with a large Golden Village cinema on the top floor, while the large Carrefour hypermart in the basement and ground levels handle your grocery or homeware needs.

Singapore Shopping Zone 2: Suntec City, Raffles City
Suntec City Mall - Fountains of fun


Listed by the Guinness Book of Records in 1998 as the largest fountain in the world, the Fountain of Wealth* is located within one of Singapore largest shopping malls, Suntec City.

In fact, the shopping and office district was constructed in accordance to Feng Shui principles. The 5 towering office blocks are designed to represent a left hand's fingers, with the fountain sitting in the middle of the "palm", symbolising wealth.

And during certain periods of the day, visitors are invited to walk around the fountain's base for good luck. At night, the fountain comes alive with spectacular laser performances and song dedications.

Suntec city engages over 300 retail outlets, 50 pushcarts and 100 F&B establishments spreading across 4 floors. The mega mall is divided into 4 zones: the Galleria, offering high-end labels, the Tropics, emphasising on lifestyle merchandises and services, the Fountain Terrace, specialising in F&B, and the Entertainment Centre, comprising of a cinema, fitness gym, an arcade and many more.

With its close proximity to the Central Business District and top tourist spots, it's no wonder this shopping, entertainment and dining centre is the perfect one-stop place to unwind – a must-visit for all tourists.

Marina Square - Everything under one roof


Shop, eat, play and relax is the mantra at Marina Square, and you can do all this and more at this classy mall. Conveniently located next to Marina Bay and some of Singapore's grandest hotels like the Mandarin Oriental,Marina Mandarin and Pan Pacific, Marina Square is filled with a range of high-street to high-end fashion boutiques, restaurants and lifestyle shops and more.

Over at this shopping complex, you'll find stores like Zara, Mango, Massimo Dutti as well as John Little, Marks & Spencer, Muji, Crocs and more, with over 250 shops. The mall also has special privileges and frequent promotions just for tourists.

Marina Square is also a great place to have a meal, with its abundance of cafes and restaurants from casual eateries to comfortable restaurants, and fast-food restaurants like Carl's Jr and Burger King. Once you're done shopping for the day, you can relax, catch a movie at Golden Village Cinemas or have a game of ten-pin bowling at the bowling alley.

Raffles City Shopping Centre


Situated in the Civic District close to historic and tourist sites, Raffles City Shopping Centre is a haven for consumers looking for luxury items. Built on the site of a former school (Raffles Institution), Raffles City is downtown shopping at its finest. The mall has a number of luxury and designer stores such as Omega, Thomas Sabo, Cortefiel and Peggy Hilfiger, among others.

Here, you'll also find big department stores like Marks & Spencer and Robinsons, and fashion chains like Topshop, River Island and Skyla. In fact, Raffles City covers most shopping bases with fashion, books, music, sports, toys, eyewear and beauty all available above the City Hall MRT station, which makes getting here all the more convenient.

The mall also has a number of top-notch restaurants such as Double Bay and Brotzeit, and also houses the Swissotel, home to the ever-popular Equinox Restaurant and New Asia bar.

Funan Digital Mall


Funan Digitalife Mall is one of the best places in Singapore to go to, for all things computer and tech-related. Found in the City Hall area between Victoria Street and North Bridge Road, it positions itself as Asia's leading IT shopping mall – with people coming from afar to have a browse through all of its specialty digital shops.

A haven for techology geeks, Funan offers the newest and widest range of gadgets, from laptops and desktop computers to printers and digital cameras. One of the best things about the mall is the various deals that you'll find here, with outlets selling value-for-money products at competitive prices.

Funan also has free wireless internet, so you can test your latest purchase immediately by going online. The mall also has several restaurants and entertainment options once you've had your fill gadget-hunting.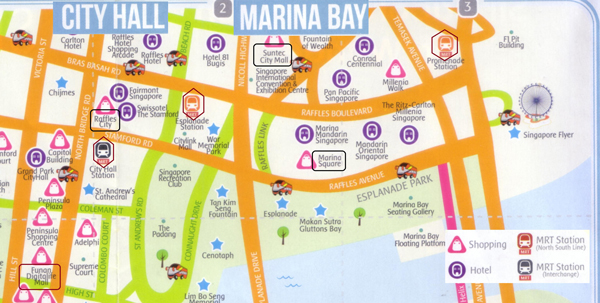 ---
Singapore Shopping Zone 3: China Town
Chinatown is Singapore's largest historic district, nestled close to the bustling business hub. When Raffles announced Singapore as a trading post in 1819, many Chinese flocked to Singapore, and by the end of the 1860s, the Chinese community had grown to encompass 65% of the population in Singapore.
Chinatown is now made up of exotic pre-war shop houses, home to merchants who have been hawking the same wares for years – bales of fine silk, traditional handicrafts, and gold and jade jewellery. Make a visit to the large Chinese emporium Yue Hwa, conveniently located at the junction of Eu Tong Sen Street and Upper Cross Street. It stocks a wide array of authentic Chinese products such as tea, medicinal herbs, foods, household items, antiques and traditional Chinese costumes such as the cheongsam.
The best time to visit Chinatown is during Chinese New Year, when the Chinatown Food Market is abuzz with activity, from lion dances to Chinese opera performances. This much-anticipated festival enlivens the market even more, and is when you can find a dazzling array of stalls touting paper lanterns, Chinese calligraphy, opera masks, contemporary fashion and festive food. On most days, these stalls begin spilling onto Pagoda, Smith, Trengganu and Sago Streets by late morning.
Many shopping centres can also be found in Chinatown. Some of the more significant ones worth visiting include Chinatown Point, People's Park Complex and the Chinatown Complex, which was built in 1972 and replaced the death houses that used to line Sago Lane. These malls not only sell a wide selection of Chinese products but also offer affordable electronic goods, textiles and discounted cosmetics and clothes.
If you're keen on the latest trends in fashion, don't miss Ann Siang Road and Club Street, where you can explore chic local boutiques such as Asylum and egg3. For a shopping experience that blends traditional Chinese heritage with contemporary offerings, the Chinatown stretch is a must-visit on your trip to Singapore.
---
Singapore Shopping Zone 4: Little India
A cacophony of car horns, bicycle bells and vibrant chatter of its residents, Little India is one of the most vibrant and culturally authentic districts of Singapore. Take in the sights, sounds and smell as you immerse yourself in an authentic Indian experience in Singapore.

As its name suggests, Little India is Singapore's foremost Indian enclave. Its charm lies in the fact that many of olden-day trades can still be found by its roadsides, alleys and back lanes. Fortune-tellers and their parrots, flower vendors selling garlands of jasmine, kachang puteh (roasted nuts) sellers on pushcarts and street-side newspaper vendors are just some of the interesting sights to be found.

Amid the pungent fragrances of spices and blooms is Serangoon Road and its inner lanes like Campbell Lane, Dunlop Street and Hindon Road. Here, look out for stalls selling Ayurvedic massage oils, gold, incense and fabrics in a variety of textures. For a glimpse of Hindu rituals, do stop by the Sri Veeramakaliamman Temple, a Hindu temple dedicated to the goddess Kali.

While in this cultural enclave, don't pass up the opportunity to dine in well-established restaurants like Komala Villas, Banana Leaf Apolo and Muthu's Curry, where you'll find spicy classic South Indian fare. Or taste some of the best Indian hawker food in Singapore such as roti prata (dough flat bread) and thosai (Indian-styled pancakes) at Tekka Market and Food Centre.

For unique accommodation, stay at Wanderlust, located at 2 Dickson Road. This experimental boutique hotel occupies a building that was originally an old school in the 1920s. Each of the four levels of the hotel is designed by award-winning Singaporean design agencies, with themes such as Industrial Glam and Eccentricity.

No trip to Little India is complete without an all-night shopping spree at the 24-hour emporium, Mustafa Centre, located at the corner of Serangoon and Syed Alwi Roads. Despite its modest exterior, Mustafa Center is a treasure trove of household knick-knacks, decorative items, foodstuff, Indian spices, apparel and textiles, electronic items and more–at some of the lowest fixed prices in Singapore.

Like most areas in Singapore, Little India can easily be explored by foot and accessible by the MRT. Also, you can hop onto SMRT Link, the first regular free shuttle bus service by a public transport operator. A loop service from Dhoby Ghaut MRT station to Little India, SMRT Link operates on weekends and public holidays from 11am to 10pm at a frequency of 8 – 15 minutes.

Mustafa Centre - Twenty-four hour bargain hunting


Rarely seen without a bustling crowd of customers, Mustafa Centre is set in the Little India district. A cult favourite in the Singaporean shopping scene, it's the best place to go if you're after a bargain or enjoy shopping late into the twilight hours.

Mustafa may not be as fancy as some of Singapore's other malls, but it has a great range of items, and good prices to match. Here, you'll get a bargain on just about everything, from clothes, perfume, souvenirs, electronics, makeup, confectionery and even food and groceries.

There is also a large selection of Indian apparel and accessories available here, which is not surprising, considering its location. Offering even travel, hotel reservation and visa assistance services, Mustafa Centre is a shopping experience unlike any other that shouldn't be missed.
---
Singapore Shopping Zone 5: Kampong Glam
- A Taste of Malay Culture
The name of this quaint and historical district originates from the Gelam Tree, which once grew abundantly in the area. In 1822, the land in Kampong Glam was officially allocated to the Malays and others in the Muslim community, including a small but successful community of Arab traders. In 1989, the Urban Development Authority gazetted Kampong Glam as a conservation area, and most of the original architecture has now been restored.
To explore Kampong Glam, hop on the MRT and alight at the Bugis MRT Station. A stone's throw away from Bugis MRT Station, you'll find shopping haunts such as Bugis Junction, the bustling Bugis Street Market, and of course Kampong Glam. Rows of conserved shophouses, painted in vibrant colours, line Bussorah, Baghdad and Kandahar Streets, and many of them are occupied by trendy design and IT firms, restaurants, caterers, art galleries, and craft and curios shops.
On Muscat Street, you'll find one of the most important mosques in Singapore. The Masjid Sultan (Malay for Sultan Mosque) was first built in 1826. The present mosque was re-built and completed in 1928 and features carpet that was donated by a prince of Saudi Arabia. Like most religious places of worship, the Sultan Mosque has a conservative dress code. If you are not dressed appropriately but would like to enter the mosque, there are cloaks available free of charge.
After a visit to the historical Sultan Mosque, step out to Bussorah Street which has been turned into a pedestrian thoroughfare. During colonial times, this was the heart of the Arab kampong and catered to the Muslim community's religious needs. Nowadays, you'll find an eclectic mix of old haberdasheries and new shops selling local wares, such as versions of the famed Singapore Airlines kebaya dress, decorative trinkets and accessories, and books relating to Arabic and Muslim culture and religion.
From Bussorah Street, continue your idyllic walk down Muscat Street before turning into Arab Street, which was well known as a textile haven in the 1950s and 1960s. You'll find bales of silk, batik, lace, organza and other materials here, where customisation and tailoring services are also available. Bring home a ready-made traditional or modern Malay costume or browse through the endless variety of traditional games such as the Congkak (a game involving marbles and a wooden board), carpets, antiques and rattan handicrafts such as wicker baskets to spruce up your home.
Stroll to the end of Arab Street and you'll reach North Bridge Road. In the abundant shops, you'll find sandalwood, prayer beads, book stands used specifically for the Quran known as 'rehal', wooden toothbrushes and other unique wares that cater to the Muslim community.
During the fasting month of Ramadan leading up to Hari Raya Aidilfitri, Kampong Glam is the place to be if you want to experience the culture and festivities. Time your visit to coincide with the 'breaking of fast' in the evenings and witness the Sultan Mosque and Muscat Street come alive with myriad stalls selling traditional Malay goodies and handicrafts. Join in the many activities, such as iftar (breaking of fast), and watch vibrant cultural performances and Ketupat-weaving demonstrations.
Kampong Glam is a gem of Singapore's history and culture. An amazing place to experience the hospitality of the Malay people and learn about Muslim customs, this is one of the ethnic quarters that you simply should not miss.
Bugis Junction
Bugis Junction has a mixture of shopping options to enthral even the most seasoned of shoppers. Part traditional mall, part open-air shopping district, Bugis Junction is one of the few malls in Singapore that has sidewalk cafes and shophouses sitting alongside gleaming new retail palaces.
One signature feature of this mall is its glass-covered shopping street, a first for Singapore in its time. Some of the shops you'll find at Bugis include department store BHG, Topshop, Converse, Kinokuniya, Cotton On, and there's also a Shaw cinema on the fourth floor. Popular with teenagers and young adults, Bugis Junction has four levels and a basement, and is handily located right above Bugis MRT station.
Here, you'll find several cheap eateries as well as more pricey restaurants, offering a range of dining experiences to suit your budget. The five-star InterContinental Hotel is also part of the mall complex, so if you're planning to book a room at this hotel, you might want to check out the mall's offerings.
---
READ MORE ....
Singapore Shopping - Where to Shop & What to Buy: www..yoursingapore.com/shopping.html
Beginners Guide on Where to Shop in Singapore: www.ladyironchef.com/
Shopping in Singapore - Singapore Expats: www.singaporeexpats.com/food-and-leisure
Singapore Shopping - Shops, Stores, Best Buys : www.virtualtourist.com/travel/Asia/Singapore/
Singapore on a Budget - 10 Money Saving Tips: www.goasia.about.com
Singapore Shopping Orchard Road: www.orchardroad.org
Singapore travel guide - Orchard Road: www.en.wikipedia.org/wiki/Orchard_Road
ION Orchard: www.ionorchard.com
Suntec City: Getting Here: www.sunteccity.com.sg/
Singapore Mustafa - Open 24 Hours: www.mustafa.com.sg
MUSTAFA - Little India: www.littleindia.com.sg
---