BLANC INN – Singapore Travel Guide
3. Singapore Free & Easy (Free Admission)
Marina Bay Sands® Hotel and Sands SkyPark®
Marina Bay Sands
Marina Bay Sands (MBS) is an integrated resort located at Marina Bay in Singapore. With a construction cost of US$5.5 billion, MBS is the most expensive property in the world.

The resort include:
- a museum
- two theatres
- an ice skating ring
- The Shoppes, a shopping mall at the MBS
- a hotel with 2561 rooms
- seven "celebrity chef" restaurants
- a convention-exhibition centre
- a casino with almost 500 tables and 2500 slot machines

Address: 10 Bayfront Ave, 018956
Website: www.marinabaysands.com
Marina Bay Sands® Hotel and Sands SkyPark®
Singapore's newest entertainment destination, Marina Bay Sands® offers luxury accommodation, shopping, dining, world-class entertainment, and convention and exhibition facilities.
The biggest hotel in Singapore, it comprises of three 55-storey towers, 2,560 luxury rooms and suites, and 18 different room types. Its 230 luxury suites come with butler service, VIP privileged access and panoramic views of the South China Sea and the Singapore skyline.
With its sloping towers (angled as steep as 26 degrees) and connecting legs at Level 23 to form a single building, the hotel is one of the most complex establishments ever built. And extending from each room's balcony, the "Hanging Gardens" of bougainvillea provides a magnificent backdrop, overlooking the upcoming Gardens by the Bay.
One of the largest art commissions ever completed as part of an integrated architectural process, the hotel will also be home to the Marina Bay Sands Art Path. The Art Path features seven large-scale art installations by five internationally renowned artists, creating shapes, moods and interior spaces that invite guests to visually and physically experience the artworks firsthand.
Crowning the three hotel towers of Marina Bay Sands at 200 metres in the sky, the Sands SkyPark® stretches longer than the Eiffel tower when laid down. The Sands SkyPark® is also home to the world's largest public cantilever housing a public observatory deck, lush gardens, exclusive restaurants such as The Sky on 58 and KU DÉ TA; with a 150-metre infinity-edged swimming pool to complete the luxurious experience.
Website: Marina Bay Sands SkyPark
Linking Marina Bay to Marina Centre, the Helix Bridge, is set to become Singapore's next landmark. Located beside the Benjamin Sheares Bridge, alongside the vehicular Bayfront Bridge, it was officially opened on 24 April 2010 and is the world's first curved bridge.
This 280-metre pedestrian linkway – the longest in Singapore – features a world's first 'double-helix' structure, designed by an international design consortium, comprising of Australian architects Cox Group and engineers Arup, together with Singapore-based Architects 61. Inspired by the yin and yang concept in Asian culture, the architecturally unique bridge is said to bring wealth, happiness and prosperity to Marina Bay.
The Helix Bridge is an engineering feat assembled with great precision. Its curved design is created by two opposing spiral steel members, held together by a series of connecting struts, symbolising "life and continuity", "renewal", "everlasting abundance" and "growth", and resembles the structure of DNA.
One of the connecting bridges will link the three waterfront gardens at Marina South, Marina East and Marina Centre, to form a continuous public waterfront loop, while also linking the Double Helix Bridge to the Marina Bay Sands®, the Singapore Flyer and Gardens by the Bay.
You can catch a panoramic view of the Singapore skyline and watch events taking place at the Bay from one of its five viewing platforms sited at strategic locations. Fritted-glass and steel glass canopies providing shade and seats are also available at resting points. View paintings and drawings by youths along this crossing, or enhance your bridge crossing experience at night with lights that illuminate the steel structure to create different moods. For a memorable experience, be sure to visit this engineering marvel situated in the heart of the city.
Website: www.en.wikipedia.org/wiki/The_Helix_Bridge
Esplanade - Theatres on the Bay
Esplanade - Theatres on the Bay, a venue for performance arts along Marina Bay, includes a concert hall with a maximum seating capacity of 1600, a theatre that sits up to 2000, a recital studio, a theatre studio, a library, as well as many shops and restaurants. The building was designed after the national fruit, therefore resembling a durian. Being the centre of performance arts in Singapore, Esplanade is busy all year round, organizing a variety of activities and programs with the help of local and international arts groups.



Address: 1 Esplanade Drive
Singapore 038981
Website: www.esplanade.com
Marina Bay Sands Walking Tour
Hints:
o Follow the itinerary and pick up the attractions you are interested in.
o Please take note that following attractions are only available in the evening:
- Wonder Full light show
- Satays on Boon Tat street next Lau Pa Sat
o By MRT, alight at Raffles Place, look for the Fullerton Hotel and walk across Cavanagh bridge behind the hotel to the Asian Civilisations Museum.
o When to go: try the SkyPark at the end of the afternoon before dusk to enjoy the view during daytime and at night. Some attractions as the Light show or eating satays at Lau Pa Sat are only available at evening.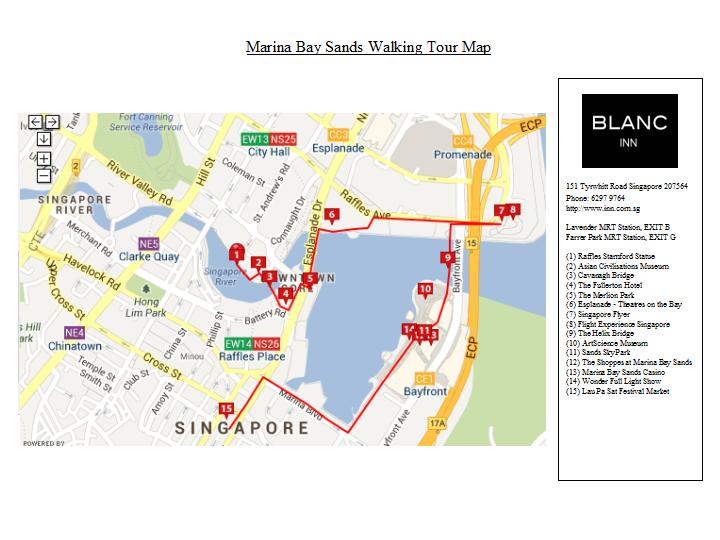 ---
Historical and Cultural Area
Civilian War Memorial


Civilian War Memorial Memorial to the Civilian Victims of the Japanese Occupation (or Civilian War Memorial in short), which sits in the central area of Singapore, is an important heritage landmark in the country. During the Second World War in Japanese-occupied Singapore, tens of thousands of ethnic Chinese were massacred in the Sook Ching Massacre by the Japanese; Chinese men between 18 to 50 years old were taken away by the Japanese and were never seen again until 1962 when their bodies were dug out. The memorial, dedicating to the victims of Japanese, was completed on January of 1967 and cost an estimate of S$500,000.

Location: War Memorial Park Beach Road, surrounded by Nicoll Highway, Stamford Road, Beach Road and Bras Basah Road.
Lighted hours: 7pm – 7am

Website: www.en.wikipedia.org/wiki/Civilian_War_Memorial

Raffles Hotel
Address: 1 Beach Road Singapore 189673

Raffles Hotel, a hotel built in 1887, is a colonial-styled hotel named after the founder of Singapore Sir Thomas Standard Raffles. On the first floor of Raffles Hotel, there is a shopping arcade with many food and beverage outlets, the more popular ones being the Long Bar, Ah Teng's Bakery and Empire Café. It is recommended by many to try the Singapore Sling if one visits the Long Bar. Other shops include fashion and jewelry brands, and also a custom tailor shop. While located on the third floor of the arcade is a museum and a theatre.



Website: www.raffles.com/singapore/

St Andrew's Cathedral


Address: 11 St Andrew's Rd Singapore 178959

Saint Andrew's Cathedral, an Anglican cathedral built in 1857, is the country's largest cathedral located near the City Hall train station within the central business district area. As of 6 July 1973, the cathedral was announced to be a national monument.

CHIJMES


Address: 30 Victoria Street Singapore 187996

CHIJMES, another national monument, is an exquisitely designed historic building complex in the country. Once a Catholic convent school, the Convent of the Holy Infant Jesus (CHIJ), with convent quarters known as Caldwell House, CHIJMES is now used for marketable uses, like shopping, dining and entertainment. There is also a chapel, built in 1904, now known as the CHIJMES Hall which is used as a multi-purpose hall, while the Caldwell House is being used as an art gallery.

Website: www.chijmes.com.sg
---
Singapore River
The Singapore River is the most famous river in Singapore. It is a canal of important history significance which flows from the Kim Seng Bridge southwards into the ocean. The river mouth was where Sir Stanford Raffles made the very first trading port, which was the key to Singapore's finance, commerce and trade during the colonial times. Today, the outlet to the sea is dammed and a new reservoir, Marina Barrage, was constructed to produce fresh water for the resource-scarce state.
People of the River
Address: Singapore River
Along the Singapore, numerous groups of statues portraying activities from the colonial period can be spotted. The more famous ones are can be seen while strolling across the Cavenagh Bridge, the Kuncinta Cats and five boys diving.
Website: www.rivercruise.com.sg
Merlion - Singapore Symbol

Address: One Fullerton Singapore 049178
Opening hours: 24 hours daily, all year.
The iconic Merlion is a mythological creature with a lion head and fish body. An 8.6m tall water-spitting Merlion statue is located in the Merlion Park, which is in the central business district area near Marina Bay and the Esplanade. This park is one of the main tourist attraction and landmark in Singapore, attracting one million visitors per year.
Website: www.sentosa.com.sg/en/attractions/imbiah-lookout/the-merlion/
Clarke Quay

Clarke Quay, Singapore's high-quality dining and entertainment district, is a vibrant mixture of restaurants, bars, clubs and more. After sunset, the whole area comes to live when all five blocks of refurbished storehouses light up with a selection of exotic alternative to typical clubs. The parties here are not always restricted to the buildings alone; the fountain is also a popular hotspot for many pub goers. At any time of the day, treat yourself to a delightful variety food and beverages along the lovely Clarke Quay streets.

Address: Clarke Quay, 3 River Valley Road, Singapore 179024
---
Chinatown
Chinatown in Singapore is a lively, intriguing blend of the past and present, from pawnshops, tea houses, herbal shops, dumpling restaurants and woven fabric goods to trendy bars along Club Street. Chinatown Complex, Maxwell Food Centre, and Smith Street are places you can enjoy open-air dining with all the finest native dishes. For a captivating insight into Singapore's Chinese culture and history, Chinatown is the perfect destination for a head start. Visitors can enjoy a day of heritage, shopping and eating treats and are guaranteed to leave contented.
Website: www.chinatown.sg/
Buddha Tooth Relic Temple & Museum

Address:288 South Bridge Rd Singapore 058840

The Buddha Tooth Relic Temple & Museum is a cultural located at South Bridge Road in Chinatown highlighting religious arts and culture of Buddhism as well as the Sacred Buddha Tooth. The building was designed based on the Tang Dynasty and the Buddhist Mandala's elements and history. Other features are the Buddhist Culture Museum, Eminent Sangha Museum, Tripitaka Chamber, and a Theatre.

Opening hours:
Viewing of Buddha Tooth Relic - 9am - 6pm daily
Buddhist Culture Museum and Relic Chamber - 9am - 6pm daily
Emiment Sangha Museum - 7am - 7pm daily
Website: /
Website: www.btrts.org.sg
Sri Mariamman Temple - Singapore oldest Indian Temple
Address: 244 South Bridge Rd Singapore 058793
Opening Hours: 7:00 am – 12:00 pm, 6:00–9:00 pm daily

Sri Mariamman Temple, Singapore's oldest Hindu built in 1827, is situated in Chinatown. The temple can be simply spotted as it is a landmark is covered with figurines of deities and mythical creatures. One of the annual festivals held at the temple, The Theemithi (fire walking ceremony), occurs around October or November.



Website: www.en.wikipedia.org/wiki/Sri_Mariamman_Temple,_Singapore
Chinatown Heritage Centre
Address: 48 Pagoda Street
Visit the Chinatown Heritage Centre, three restored shophouses along Pagoda Street, to learn about Chinatown's social history and progress through photographs, recordings of oral interviews and exhibits to help you to picture the life of Singapore's first Chinese settlers.


Opening Hours: 09:00am to 08:00pm daily.
Admission: S$8.00 (Adult), S$4.80 (Children)
Website: www.singaporechinatown.com.sg
China Town Walking Tour
Hints:
o Take the MRT from Farrer Park station to Chinatown station, Exit A
o Visit Sri Mariamman Hindu Temple (map: #1) (note: they charge a small amount if you want to take pictures)
o Visit Buddha Tooth Relic Temple (map: #2) (note: for ladies wearing skirts/shorts/tank tops, they will give you an extra cloth to cover up)
o Have Lunch at Chinatown Complex Food Centre (map: #3) or People's Park Complex Food Centre (map: #4)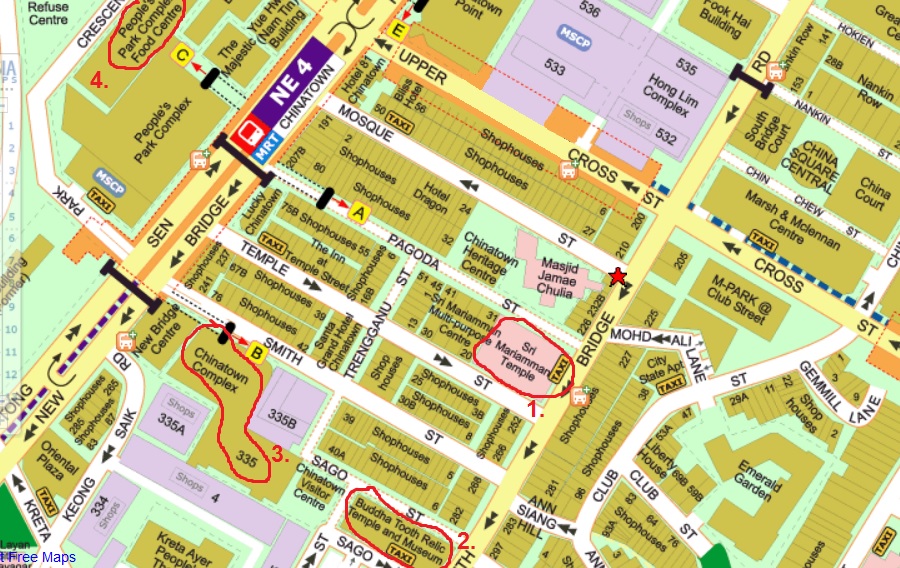 ---
Little India
Little India is one of the most animated and culturally genuine quarters of Singapore with a harmony of car horns, bicycle bells and lively chattering of the people. Many of colonial-time trades still exist along the roadsides and backstreets of this prime Indian district in Singapore. Snack, flower and newspaper vendors can also be found by the side of the road.
Hot traditional South Indian cuisine can be found in renowned restaurants like Komala Villas, Banana Leaf Apolo and Muthu's Curry. The greatest Indian hawker food like roti prata and thosai (Indian pancakes) can be tasted at Tekka Market and Food Centre. Amongst the fragrant scents of spices and flowers are shops selling massage oils, gold, and various fabric textiles along Serangoon Road and smaller lanes like Campbell Lane, Dunlop Street and Hindon Road.
Website: www.littleindia.com.sg
Sri Veeramakaliamman Temple
Address: 141 Serangoon Rd Singapore 218042
One of the oldest temples in Singapore, Sri Veeramakaliamman Temple, is a Hindu temple located in Little India. The early immigrants built this temple in devotion to Hindu goddess Kali back in 1881 for protection in an unfamiliar land.
Website: www.sriveeramakaliamman.com
Little India Walking Tour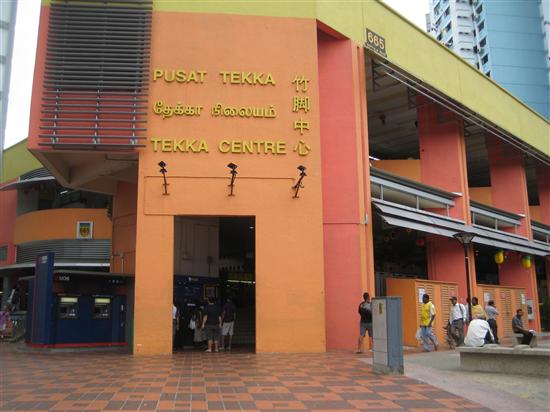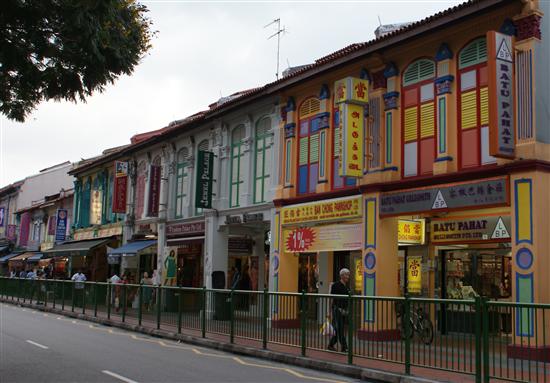 Hint:
Buy Fresh coconut from the street. You not only could drink fresh coconut milk, and you may also scrap the coconut meat and eat it - cool and refreshing.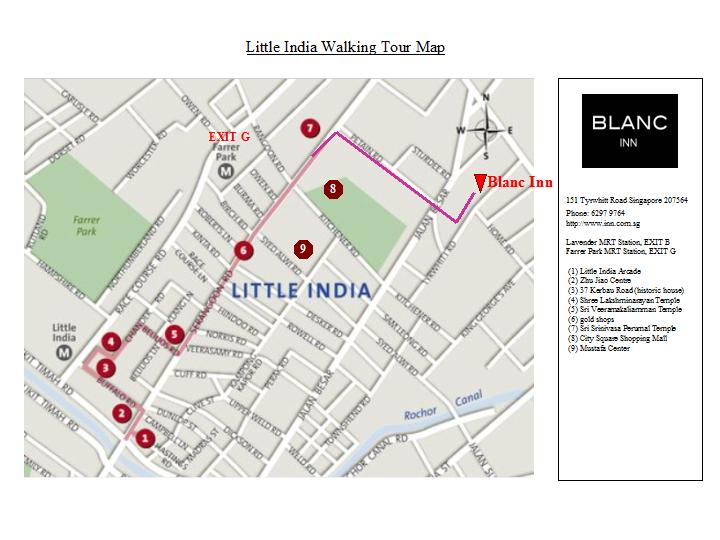 ---
Kampong Glam - Malay Culture
Kampong Glam Kampong Glam is a district north of the Singapore River, populated mostly by the Muslims in the past and present. Rows of shophouses has been refurbished like those in Chinatown and Little India into beautiful shops and restaurants.
Sultan Mosque - Fit for a King
Address: 3 Muscat Rd Singapore 198833
Opening Hours: Every Saturday to Thursday 9 am till 1 pm
A visit to Singapore's Kampong Glam district isn't complete without a stop at Sultan Mosque. With its massive golden dome and huge prayer hall, the Sultan Mosque is one of Singapore's most impressive religious buildings, and the focal point of Muslims in Singapore.
The mosque was first built in 1824 by Sultan Hussain Shah, the first sultan of Singapore, with a grant from the East India Company. The minarets and balustrades you see today were added on by architect Denis Santry, who supervised the reconstruction after the mosque's centennial celebration.
The main prayer hall can hold up to 5,000 worshippers, and is one of the biggest and most amazing religious structures in Singapore. Don't forget also to check out the mosque's dome base, formed out of many glass bottles collected by devotees, and is a great sight to behold.
Website: www.sultanmosque.org.sg
Haji Lane - A new vibe
Once an empty street of pre-war shophouses, Haji Lane has been given a new lease of life by local designers and young entrepreneurs who have set up their quaint boutiques proffering fashionable wear and products boasting made-in-Singapore designs. Here, you will find excellent vintage shops selling an array of contemporary, quirky garments and accessories as well as local boutiques by up-and-coming designers that have been refurbished in their own unique style. Just a street away, you'll find textile shops that have been in business since the 1950s! There's a raw, energetic vibe that's worlds away from the polished international stores which makes Haji Lane so undeniably fascinating.
While exploring Haji Lane, look for these highlights:
• The Blog Shop. A shop that showcases daring creations by local fashion designers.
• Know It Nothing. A design outfit that draws inspiration from its historic surroundings and in turn provides a sophisticated approach to clothing and footwear.
• Pluck. A collection of cleverly designed fashion and furnishings that often display great wit. Sweet deals include homemade ice-cream and delectable desserts from the in-store ice-cream parlour.
• Salad Shop. Against a black and white interior, their selection of homeware in basic colours really pop. Each item is limited in number, so if an item is sold out, it probably won't be found in the store again.
• Straits Record. Almost an institution in the local music scene, this is where you'll find albums by local and regional indie bands, alternative, hip-hop, hardcode and reggae music, including vinyls and books.
• Sup Clothing. This store is a nod to urban cities that have defined skateboarding, punk and hip-hop cultures. It's also the only store that stocks threads designed by local graffiti artist, The Killer Gerbil.
Website: www.yoursingapore.com
---
Singapore Botanical Gardens
The Singapore Botanical Gardens, a leisure park of 74 hectares, is the perfect destination for a family outing. At the Central Core is the main attraction of the park – National Orchid Garden. With only a small admission fee of S$5 for adults, visitors can enjoy the beauty of over 1,000 species and 2,000 hybrids of tropical orchids. On the Bukit Timah Core there is the wonderful learning and playing corner for the children - the Jacob Ballas Children's garden which houses the Water Play area, playgrounds and tree-houses as well as educational exhibits.

Address: 1 Cluny Road, Singapore 259569
Opening Hours: 5am to 12am daily

Website: www.sbg.org.sg
---
East Coast Park
East Coast Park, located on the reclaimed land southeast of Singapore, is the largest park in the country 185 hectares big and over 15km wide. The park is one of the favorite places of family and friends for barbecue activities, seafood dining and sports such as cycling or roller-blading. Other interesting activities you can see or do at the park includes Tai-chi practices, sandcastling, camping, cable-skiing, mini-golfing and inline skating.
---
Haw Par Villa
Address: 262 Pasir Panjang Road Singapore 118628
Opening Hours: 9am to 7pm daily, Admission: Free

Two brothers who developed the Tiger Balm brand built this park in 1937 which was named "Tiger Balms Gardens" at first. This park was established to serve as a venue for educating the traditional Chinese principles and is home to over 1,000 statues and 150 giant dioramas depicting scenes from Chinese myths, folktales, and legends. In 1988, the park was then renamed after the brothers, Aw Boon Haw and Aw Boon Par, to Haw Par Villa Dragon World.
Website: www.hawpar.com
---
Bukit Timah Nature Reserve
Bukit Timah Nature Reserve, an ASEAN Heritage Park, spreads over 1.64km2 on the slope of Singapore's tallest hill and is home to more than 840 species of flowering plants and 500 species of fauna. The park is managed and protected by the National Parks Board today to preserve the native forest species. Recreation activities carried out at the park includes jogging, biking, strolling, and even rock-climbing at the renovated old quarry.

Address: 177 Hindhede Drive, Singapore 589333
Opening Hours: 6am – 7pm daily, Admission: Free
Website: www.nparks.gov.sg
Click Below to download "Bukit Timah Nature Reserve map"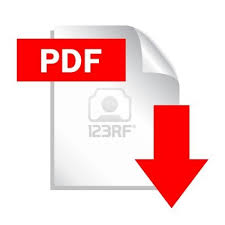 ---
Buddist, Taoist Temples
Lian Shuang Lin Temple
Address: 184E Jalan Toa Payoh Singapore 319941
If you're looking to visit a grand temple in Singapore, stop by the famous Lian Shan Shuang Lin Temple in Toa Payoh. The 40,000 square-metre site was originally owned by Low Kim Pong, a wealthy Chinese Hokkien merchant and devout Buddhist who donated the land after a dream led him to a chance meeting with a family that had taken Buddhist vows.
A national monument, this Buddhist temple was completed in 1908 and commemorates Buddha's birth and death. The temple has an elaborately decorated gateway, reached by a bridge, which opens into a courtyard. Take a walk in the courtyard to admire the numerous beautifully carved Buddhas on display.
Website: www.shuanglin.sg
Thian Hock Keng Temple - The Seafarers' Temple
Address: 158 Telok Ayer St Singapore 068613
In a place like Singapore, where Chinese immigrants first came in boats, there is bound to be a temple dedicated to Mazu, the Goddess of the Sea. The Thian Hock Keng Temple was erected in 1821 by seamen grateful for safe passage, and stands where Singapore's waterfront used to be, before the land was reclaimed.
Take in the remarkable architecture of the temple that's been built in traditional southern Chinese architectural style, with stone, tiles and wood, dragons and phoenixes, detailed carvings, intricate sculptures and imposing columns – all amazingly assembled without nails.
You may also want to check out a plaque presented by Qing Dynasty Emperor Guang Xu in 1907, evidence of the temple's stature in both Singapore's and China's history and lineage.
Website: www.thianhockkeng.com.sg
Sakya Muni Buddha Gaya Temple -The Temple of a Thousand Lights
Address: 366 Race Course Rd Singapore 218636
One of the most prominent and widely visited Buddhist temples in Singapore, The Sakya Muni Buddha Gaya Temple is often referred to as the Temple of 1,000 Lights. Founded in 1927 by a Thai monk called Vutthisara, you'll notice the strong Thai influences in the architecture and décor. Walk into the temple and you'll immediately notice the majestic 15-metre high statue of Buddha, surrounded by a seemingly endless chain of lights.
At the base of the statue is a fresco depicting important events in Buddha's life. In a chamber at the back of the statue, you'll also find the image of the reclining Buddha that must be seen to be believed. It's a powerful figure that is not just worth taking many snapshots of, but its sheer size will simply awe and inspire not just devotees, but anyone who can appreciate marvellous architecture.
Website: www.yoursingapore.com
---
MacRitchie Reserviour
MacRitchie Reservoir Park is the choice destination for fans of Mother Nature and exercising as well as simple activities like strolling. The reservoir deck is the perfect place for warm-ups and events. Facilities centre with toilets, showering facilities, lockers, drinking fountains and a food kiosk are located all around the park. The reservoir is also surrounded by trails of tropical forest.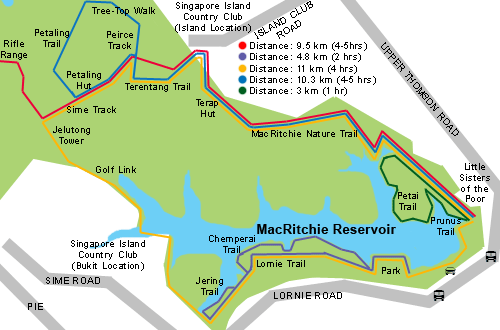 ---
Pulau Ubin
Pulau Ubin is a tiny island located on the north east of mainland Singapore. The island is well-known for having plenty of natural vegetation and fauna. It is quite a popular location for families or friends to go for bike cycling trips. There is resort on the island which offers a variety of sports activities. Guided trips are available at the intertidal flat at Chek Jawa.
Website: www.wildsingapore.com/ubin/
---